Customized Remapping
What Are Performance Chips?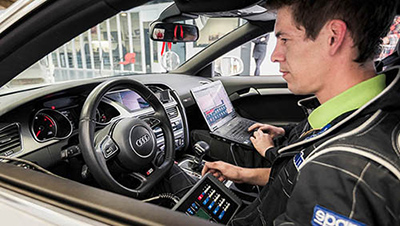 Using performance chips, we re-tune the engine to obtain the optimum performance from your vehicle. Nowadays, there is a computer in every car. The computer that controls the engine is called the engine management system or ECU (Engine Control Unit). The ECU is the engines brain, and it controls every aspect of the engine, including throttle position, turbo pressure, and injection quantity and timing. By remapping the software in your ECU, we can retune your engine for maximum performance.

Re-Adjustment
Car manufacturers have set their engines according to certain defined values. We can reconfigure those values by calculating various technical specifications of the engine (turbocharger, fuel pump and driveline). At ZIPtuning we aim for peak performance for every car, while maintaining safety. Improved drivability is just as important to us as increased power and torque.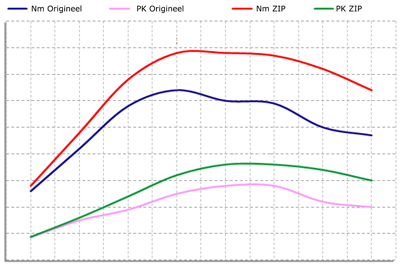 Why Don't Manufacturers Tune-Up?
Due to production costs, manufacturers typically produce one engine for a range of models, so they do actually tune their engines to different power outputs. A single engine produces different output variants, enabling us to make use of the margins left in place.
Tuning Is a Skill
Today's models have advanced injection techniques, and it takes knowledge and experience to tune engines properly. Gasoline engines are often equipped with direct fuel injection, while diesel engines use common rail technology in combination with piezo injectors. Our team has been in this business for many years and they follow the latest trends in the industry, so we know how to get the most out of your car without compromising safety and reliability.
An Optimal Air/Fuel Mixture Ratio
Using performance chips, we can adjust multiple parameters in the engine management system. By slightly increasing fuel injection and airflow, the engines power output is increased. Our goal is to ensure that the air/fuel ratio is kept in ideal balance, so altering one of the aspects automatically calls for the adjustment of the other one.
A good mixture improves the engines life cycle, while decreasing emissions. A mixture that is too lean will generate higher engine temperatures and an inadequate throttle response. A mixture that is too rich will increase fuel consumption and pollution.
Another advantage of our performance chip is fuel efficiency. After our performance chips are installed, the engine makes fewer revolutions and there is no wasted fuel. The engine will thus provide greater torque and enable you to drive in a higher gear, thus allowing you to get better fuel efficiency.
Compliant with the Highest Standards of TÜV
Our organization is TÜV ISO:9001-certified; all our work is accompanied by TÜV certification documentation. The CO2 and consumption levels in the ECE-cycle will remain the same, with a possibility of minimal deviations, but certainly within norms.
As we develop each performance chip, we test and control emission values. We adjust the engine in such a way that the CO2 emission and fuel consumption rates remain at the same level or are improved. An ECE cycle is simulated on our dyno bench with emission analyses. Making sure your car is compliant with government regulations can save you money at tax time. Tuning your car with ZIPtuning will guarantee you more driving pleasure!



Read more about our ECU tuning methods!